Stakeholders discuss role of public and private sectors in ensuring good corporate governance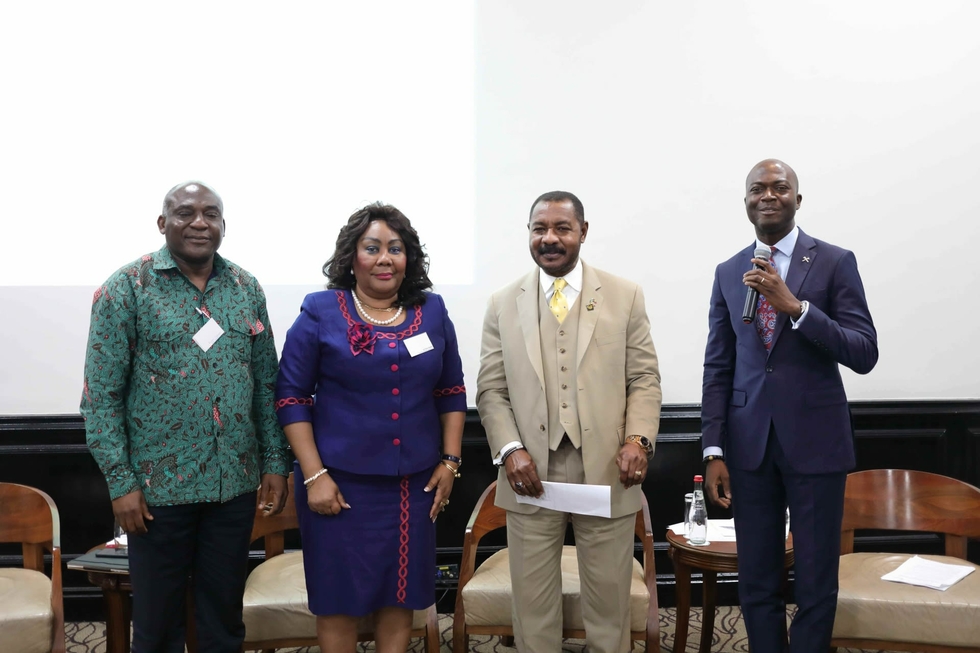 Business, civil society and public sector leaders have entreated the private sector to increase integrity and good corporate governance principles in their organisations in order to become more competitive and sustainable, whilst urging the public sector to provide incentives for compliance.

The call was made at the High-Level Dialogue on Good Corporate Governance: A Prerequisite for Private Sector-Led Economic Development organised in Ghana by the Alliance for Integrity under the auspices of the Ministry of Business Development, and with the support of the Private Enterprise Federation and Ghana Integrity Initiative.

The dialogue brought under one umbrella key high-level stakeholders such as institutional heads from the private sector, public sector and civil society to exchange views on the need for the full adoption and enforcement of integrity and corporate governance principles whilst sharing ideas on the incentivisation of good business conduct by the public sector.

Robin Cordes, Deputy Head of Cooperation, German Embassy Accra, who gave the welcome address, encouraged participants to increase transparency and corporate governance in their entities, and urged the public sector to improve framework conditions for the private sector to grow.

In a keynote address delivered on his behalf, Hon. Dr. Mohammed Ibrahim Awal, the Minister of Business Development, reiterated government's commitment to the development of the private sector and called for corporate executives to embrace integrity.
Speakers in a panel discussion on "Towards ensuring integrity in the private sector – The role of policy makers and the state" agreed that in order for both the private sector and public sector players to succeed in good governance, there was the need for compliance anchored on effective monitoring and evaluation systems. They also advocated for the right policy frameworks, rule of law and avenues of redress that would allow companies to provide guiding principles as part of their governance structure. The panellists highlighted the need for the public sector to enforce regulations whilst addressing shortcomings in corporate governance systems and processes using modern resources such as digital tools.

Panellists in a second panel discussion on "Towards good corporate governance: The responsibilities of top leadership" held the view that good corporate governance pays off in the long run and thus challenged business leaders to set the tone from the top for integrity and good governance, in order to remain in business for a long time. They called for proper selection processes for corporate executives to ensure adherence to good governance principles in companies.

Amongst other points, panellists and participants agreed on the need for a change of attitude towards integrity and high moral standards whilst having ethical and proactive leadership devoid of conflict of interest, as a way to instil good corporate governance in the private sector. They also entreated businesses to set up codes of conduct to define acceptable behaviour by employees as well as third parties.

Susanne Friedrich, Director of Alliance for Integrity, in her closing remark, invited businesses to join the Alliance for Integrity and take part in various awareness-raising and capacity-building activities on business integrity. She called for a strategic approach to integrity as an investment rather than cost, adding that additional public-private dialogue opportunities were needed to make both sectors collaborate towards creating integrity in the economic system.

Panellists for the event were Nana Osei Bonsu, CEO, Private Enterprise Federation; Dr. Felix E. Addo, Board Chairman, Guinness Ghana Breweries Limited; Jemima Oware, Registrar General; Rockson Dogbegah, President, Institute of Directors Ghana; Shika Acolatse, Country Director, Enablis; and Beauty E. Narteh, Executive Secretary, Ghana Anti-Corruption Coalition.