Local SMEs leaders at the head of the Advisory Group in Mexico
18.06.2020
Mexico, Online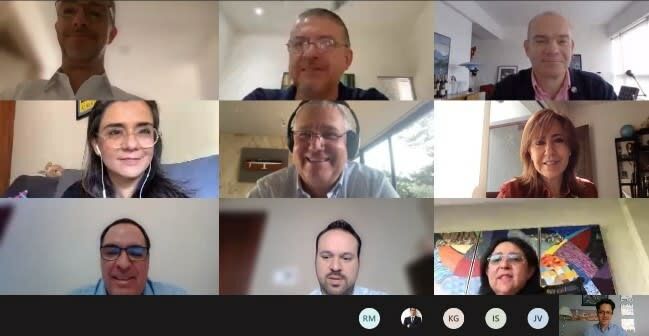 On 18 June 2020, the Advisory Group of the Alliance for Integrity in Mexico had its first virtual meeting. During this session important decisions were made including the appointment of Mr. Lorenzo Berho Corona as new Chair. Lorenzo Berho is founder of the Mexican industrial real estate company VESTA – a best practice example for successful entrepreneurship in the region. Mr. Francisco Santini Ramos, president of the centre for social responsibility for sustainable development (PERSÉ) in the northern state of Chihuahua, was elected as Vice Chair. Both will represent the Advisory Group for the next twelve months. The two appointments structurally complement the Alliance for Integrity's strategy in Mexico which, amongst others, seeks to be more visible in the rest of the country.  
As part of the meeting, Angel Olague, new Focal Point Mexico at the Alliance for Integrity, was officially introduced to the members of the Advisory Group. Angel has profound experience in working with business groups in the centre of the country and previously joined the initiative as DEPE trainer. With the entry of Angel in the beginning of May, it is expected to have more capacity to follow-up with partners and supporters on a sub-national basis.

Recently, the Alliance for Integrity has carried out further activities in different places in Mexico, including Chihuahua, Monterrey, Guadalajara, Leon and Cd Victoria and also participated in various forums in Torreón, Queretaro, Puebla and Quinta Roo. These structural and organisational changes are intended to give a new impetus to the initiative, particularly in times of Covid-19.
Moreover, the members are currently working on a sustainability model to achieve organisational independence by 2025. The model compiles recommendations of all Advisory Groups worldwide and will be further discussed during the Steering Committee meeting in September this year. In this context, the Advisory Group Mexico stressed the importance of continuing working with sub-national actors, chambers, clusters and guilds in order to spread the integrity message among as many SMEs in the region as possible. The overall objective is to establish the Alliance for Integrity as the best platform in Mexico for implementing collective action measures focusing on business integrity. 
Author: Angel Olague