Empowering Female Entrepreneurs on Their Path Towards Integrity
18.03.2021
Brazil, online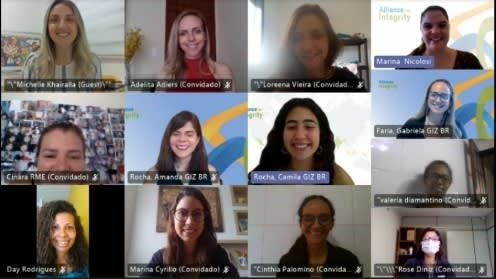 Women often encounter increased vulnerability due to manifestations of gender inequality which can limit their opportunities in various spheres. This is exemplified in women's restricted access to decent employment, higher salaries, more political representation and decision-making. Social and cultural barriers can also determine differences in the attitudes of women and men in regard to corruption, the severity of corruption and strategies to combat it. In order to empower women in business, the Alliance for Integrity is committed to provide women with the necessary tools and knowledge to counter corruption in the ecosystem. In addition to various exchange platforms, such as the Integrity Coffee in Mexico and Colombia, central component of our engagement in this field is the DEPE corruption prevention training programme, which is specifically adapted to the needs of women entrepreneurs. After the successful implementation in Mexico, the training was also carried out in Brazil on the occasion of the International Women's Day. Twenty-five women entrepreneurs from small and medium-sized enterprises (SMEs) and across different sectors participated in the first edition.

The four-part training programme was facilitated by Marcia Muniz, Legal Director at Cisco Brazil, Maria Victoria Perottino, Specialist in Governance, Risk and Compliance at Unimed-BH, Marina Nicolosi, Compliance Specialist, and Michelle Khairalla, Representative of DHL. In addition to getting to know the different facets of corruption, the participants learnt in interactive role plays how to behave correctly in dilemma situations and what measures can be taken to effectively prevent corruption in their businesses. A special focus was placed on the topics of money laundering and terrorism prevention.

Corruption prevention always starts within the company. Based on the UN Global Compact Management Model, the participants therefore elaborated the six steps that are part of the implementation of an effective compliance management system: Commit, Assess, Define, Implement, Measure and Communicate. The cyclical model shows that corruption prevention is not a closed process but requires continuous commitment. Compliance mechanisms must be constantly reviewed, improved and adjusted to adapt to changing conditions.

Each of the six steps was underpinned with practical examples and interactive exercises to give participants guidance on their own path to integrity.
As part of the training programme, Ana Thelbia Marinho, Executive Director of the NGO Humana and former DEPE trainer, gave a presentation on the link between gender and corruption. She particularly emphasised the importance of these debates for SMEs and female entrepreneurs: "Businesswomen who want to strengthen their processes and raise their integrity level to the highest standard need to understand how they are affected by corruption in its various forms. Trainings like the DEPE corruption prevention programme are important for women to know and implement collective strategies to fight corruption", she pointed out.

Apart from gender-specific aspects, the training also covered the increasing trend towards digitalisation, which was further driven by the pandemic. One resulting issue is the protection of personal data. To address this problem, the Brazilian Government has adopted the General Law on Data Protection (LGPD), which regulates the handling of personal data by natural or legal persons under public or private law. The law aims to protect the fundamental rights to liberty and privacy. The participating women were introduced to the details of the law and learnt how they can adapt their business processes to comply with the legal framework.

The DEPE corruption prevention training for female entrepreneurs is part of a series of trainings designed to meet the needs of specific sectors and target groups. "It was a great experience to exchange with other businesswomen on this topic and to feel that we are all in the same boat. I will take this momentum with me, as I now understand that we need to join forces to create real change", stated one of the participants. Further trainings of the Alliance for Integrity can be found on the website.

Author: Andrea Mesquita