Supporting Women Entrepreneurs in Setting Up Effective Compliance Management Systems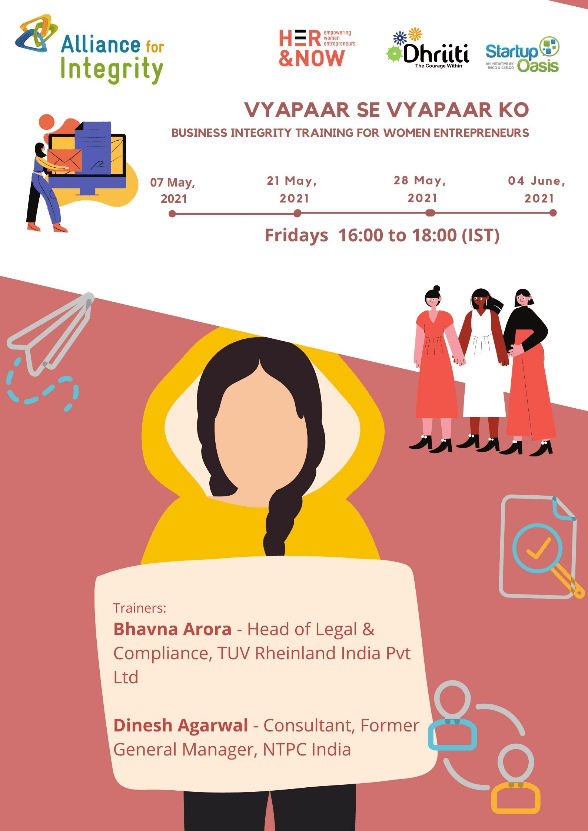 Women tend to be more affected by corruption, often of a sexual nature, than their male counterparts. The nexus between gender and corruption puts them in a vulnerable and disadvantaged position. It is therefore all the more important to empower women in business and give them the necessary tools to prevent corrupt practices. With this in mind, the Alliance for Integrity has adapted the VSVK (Vyapaar se Vyapaar ko – from Businesses to Businesses) corruption prevention training to the specific needs of women entrepreneurs aiming to create a platform where they can openly share challenges related to corruption and learn from experienced compliance experts how to counter them. After being successfully piloted in Brazil and Mexico, the training programme has now been implemented in India for the first time. In partnership with Her&Now, we hosted four digital sessions in the months of May and June, explaining the different facets of corruption, how to identify and mitigate possible risk factors as well as providing practical tools to set up efficient compliance mechanisms. The training programme was led by the two experienced VSVK trainers Dinesh Agrawal, Independent Consultant, and Bhavna Arora, Head of Legal and Compliance at TÜV Rheinland India Pvt. Ltd. Most participants came from the state of Rajasthan and the North-East of the country covering different sectors including textile, food processing and IT. Some of them have recently started their business and are in the process of implementing compliance mechanisms from scratch; others have been in business for a longer time and aim to enhance their already existing compliance management system. The diversity of the participants allowed for different perspectives on the link between corruption and gender and to learn from each other's experiences.

Setting the framework of the training programme, Bhavna Arora and Seema Choudhary, Network Manager India of the Alliance for Integrity, presented some of the key challenges that participants shared during the Integri-TEA series. The Integri-TEA format is aimed at female entrepreneurs and businesswomen in India providing an informal and protected setting to openly discuss corruption-related challenges and possible solutions. Participants share experiences, learn from each other and develop a deep understanding of tools and good practices available to prevent corruption within their businesses. The key challenges mentioned included gender-based discrimination, lack of access to financial resources and missing mentorship programmes to guide women in starting a business. "Many women find it difficult to network with other businesses and public organisations as they often have to take care of their families after work instead of attending business events," highlighted Seema Choudhary.

Part of the programme is to provide the participants with the necessary knowledge and tools to implement an effective compliance management system in their companies. In this regard, the training refers to the UN Global Compact Management Model that includes six steps: Commit, Assess, Define, Implement, Measure and Communicate. Together with the trainers, the participating women discussed how to put each step into practice and what needs to be taken into consideration to not run into potential pitfalls. In order to further support the participants in the future, the Alliance for Integrity offers a Support Desk that provides expert answers within 72 hours.

Another important success factor is the practical approach of the training programme. Participants not only gain theoretical background knowledge, but also discuss concrete case studies, practice what they have learnt through interactive role plays and get to know international best practices. In open exchange rounds, they can also share their own experiences and work together on cross-sectoral solutions.

Based on the participants' questions, Dinesh Agrawal and Bhavna Arora further explained the ISO certifications, such as ISO 9000, that help companies to increase their credibility and thus expand their business. The trainers also pointed out various government programmes available for start-ups to scale up their business. As example they highlighted the GEM platform provided by the Indian Government which aims to facilitate online procurement of goods and services required by various ministries, organisations and public sector units. In this way, transparency, efficiency and speed in public procurement are to be enhanced.

"Apart from my participation in the VSVK corruption prevention training, TheIntegrityApp has helped me a lot in improving our compliance mechanisms," added Aparna Makkar, Co-Founder of Samvaad Setu Education Pvt Ltd. Her company is just in its early stages. TheIntegrityApp supported her in setting up a compliance management system, which she will now develop further.

The VSVK corruption prevention training for women entrepreneurs met with positive feedback among the participants. The four digital modules laid the foundation to build a sustainable business. Now it is up to the women entrepreneurs to put this into practice.

Author: Seema Choudhary