Compliance Behaviour: A New Ethical Dilemma in the Covid-19 Pandemic Era
25.02.2021
Indonesia, online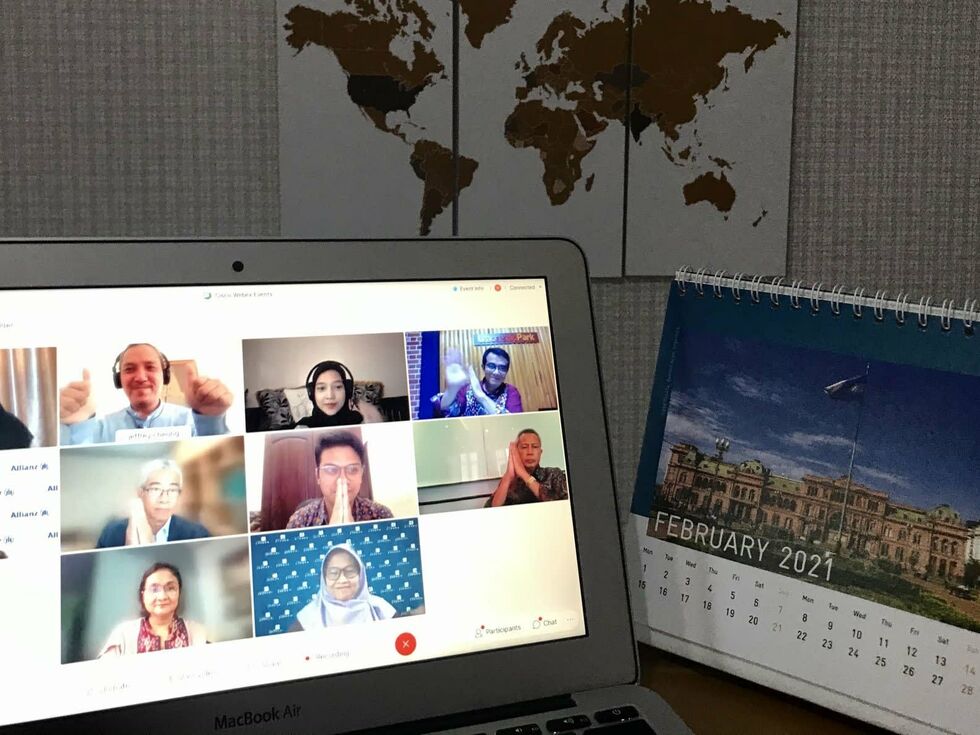 The first two sessions of the Integrity Talks Series in Indonesia focused on two challenges that have been amplified by the Covid-19 pandemic: counterfeit medicines and data protection issues. However, these are not the only concerns the business community is currently facing. The uncertainty created by the crisis is also impacting compliance matters as quick decisions need to be made, necessary resources are lacking due to disruptions in the supply chain, many employees work from home and compliance procedures need to be carried out remotely.

"Compliance Behaviour: A New Ethical Dilemma in the Covid-19 Pandemic Era" was therefore the overarching topic of the closing session of the three-part event series. The Alliance for Integrity, together with its partners Indonesia Business Links, the Indonesia Global Compact Network and Transparency International Indonesia, carried out a panel discussion on this subject between representatives from companies and business organisations to establish peer learning and share best practices.

In her opening remarks, Susanne Friedrich, Director of the Alliance for Integrity, highlighted that behavioural compliance has become one of the main topics of the Alliance for Integrity. As an example, she mentioned the No eXcuses Guide, which cites the ten most common excuses for corrupt behaviour and provides powerful arguments on how to counter them. The guide has already been adapted to the specific needs of nine countries where the initiative is active.
Setting the tone for the discussion, Ferdian Yazid, Programme Manager of Transparency International and moderator of the session, raised the issue of ethical dilemmas that occur more frequently during the crisis. Ethical dilemmas refer to situations in which a difficult choice has to be made between two courses of action, either of which entails transgressing a moral principle. "Ethical dilemmas lie in grey areas," added Prima Naomi, Vice-President of Business Ethics at the Indonesian Global Compact Network.

Another aspect is that working remotely, which many companies encouraged during the pandemic, creates possible conflicts of interest between work and personal responsibilities. The lack of face-to-face exchange also increases the risk of non-compliance. To counter this, companies should have an ongoing dialogue with their employees to build trust and a sense of belonging. "Trust is key when implementing the work-from-home policy because there is a shift in monitoring employees, from checking their hours to making sure they deliver their work," Hasinah Jusuf, Director Legal and Compliance at Allianz Indonesia, pointed out. As best practice she suggested regular informal meetings that contribute to being aware of the health of employees and creating a safe workplace for everyone involved.

In addition, communication plays a crucial role. To address the challenges posed by the crisis, communicating corporate values such as empowerment, trust, agility, integrity and flexibility can promote compliance and accountability at the individual level. Virtual trainings, awareness-raising activities and digital communication tools are particularly suitable in this context. However, efforts to ensure compliance should not only be implemented from a top-down perspective but must above all be lived by the employees themselves. For guidance in dilemma situations, employees can rely on the company's code of conduct. Even though it often regulates very general and broad topics, it can also provide a guideline in concrete crisis situations. The introduction of a comprehensive and flexible code of conduct is therefore essential.

The Integrity Talks Series was well received by actors across all sectors. Concluding the three-part event series Jeffrey Cheung, Chair of the Advisory Group Indonesia, emphasised that the initiative will continue to promote business integrity in the economic system. Find all upcoming events in Indonesia and other countries around the world on our event page.

Author: Alhayyu Shafira Wahyu Putri