First Compliance Training Webinar organised in Ghana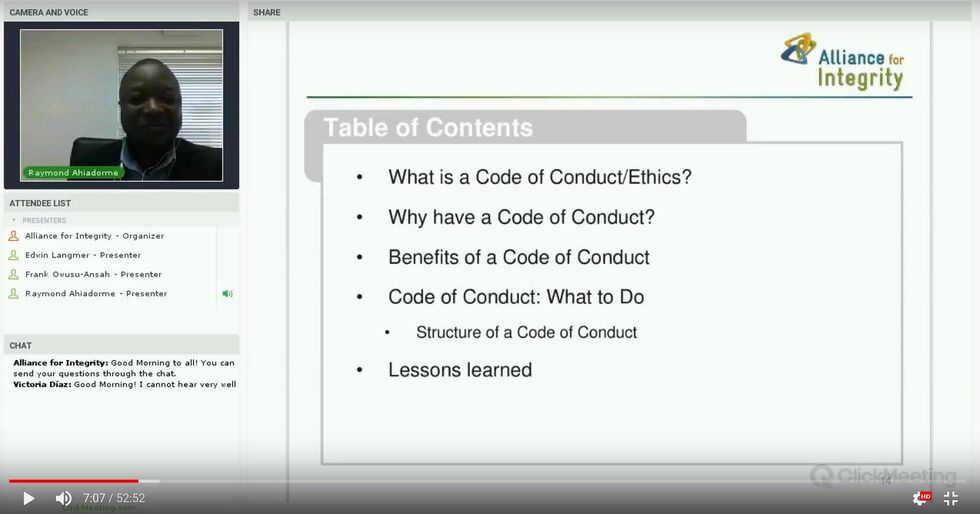 The Alliance for Integrity has organised its first Compliance Training Webinar in English, on the topic on "How to Establish a Code of Conduct for your Business". The hour-long webinar attracted a live audience from various countries including Brazil, Nigeria and Ghana.

The session was used to address what a code of conduct is and the need for businesses to have one. Participants were also taken through practical steps in establishing a code of conduct and had the opportunity to request clarifications from speakers.

The speakers for the session were Edwin Langmer, a compliance consultant and Local Chapter Chair of the Association of Certified Compliance Professionals in Africa (ACCPA) and Frank Owusu-Ansah, Corporate HSSE Manager for APM Terminals, Ghana, who is also a trainer for Alliance for Integrity's Compliance Training for Businesses, which is a full-day physical training on corruption prevention.

The webinar series has been used before in Latin America within the Alliance for Integrity network as an additional capacity-building tool. The Capacity Building Working Group in Ghana adopted the tool to support English-speaking business representatives around the globe to implement various corruption prevention measures in their organisations and their supply chains.

The recorded version of the webinar is available on the Alliance for Integrity's YouTube channel.